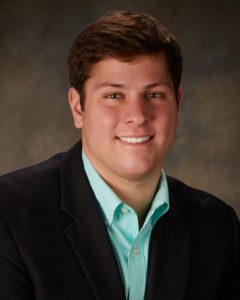 "I am Spencer Lyndon and I am a proud Wilson native. I do not feel I left any fun on the table when it came to growing up. I have always been told I have a playful personality and do not take myself too seriously. I like to look at the bright side of life and laugh as often as possible. When it came to school, I had to work a little harder than the average student. After completing my 10th grade school year at Hunt High School, I took the opportunity afforded to me to attend Virginia Episcopal School in Lynchburg, Virginia for my junior and senior year of high school. I achieved more than I knew I was capable of during those two years academically and would not trade those two years of my life for anything. In my senior year, I was fortunate enough to be part of the first state championship football team in the nearly 100 year school history.
I graduated from East Carolina University with honors with a degree in Risk Management. After working in the Research Park in corporate insurance, I decided the big city life was not for me. I knew in my heart my calling was to return to Wilson and begin my career in real estate. Real estate is in my blood. Our Town Properties, Inc. is my families' business and I am proud to be associated with a company that prides itself on integrity, honesty and putting people's needs first.
My relaxation time includes being in the water as much as possible, preferably wake boarding and water skiing, I love to snowboard, play racquetball, kickball, basketball and just about any other competitive sport you can name. My competitive nature instinctively spills over into my professional career which benefits my clients interest most definitely.
Whether you are buying your first home or selling your tenth home, I will be honored to assist you with the expertise I have learned. I work with homeowners and investors, residential and commercial properties. Our Town Properties, Inc. offers property management services to assist our investor clients with top notch professional service. If you need anything concerning real estate, I would appreciate the opportunity to meet and exceed your expectations."
Email: spencer@ourtownproperties.com
Cell: 252-299-0751